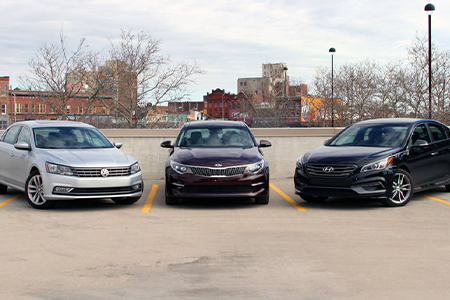 Looking to fix up your automotive situation? Then you will be happy to know The Taylor Automotive Family team is prepared to leverage their skills and expertise to help you work out the best path forward. From offering up some help as you dig into the abundance of great cars found on our lot to scheduling your next routine maintenance, it is plain to see our dedicated staff of professionals is more than capable of providing the help you need to figure out these tough decisions.
Are you excited to hear about which team has what you are looking for in your next trip to The Taylor Automotive Family? Then go ahead and join us as we bring you up to speed and help you connect with the appropriate group of certified The Taylor Automotive Family experts.
Our Sales Group Has No Equal When It Comes to Service and Quality
In terms of new and pre-owned car sales, nobody beats The Taylor Automotive Family team in Toledo. From giving you the inside scoop on all of the latest selections from Cadillac, Genesis, Hyundai, Kia, and Volkswagen to putting you on track for the right used car (including Certified Pre-Owned models and selections from other automakers) that fits smoothly into your daily duties and financial concerns, we can provide you with the insight you need to make a smart, well-reasoned choice.
888-650-6911
The best reason to connect with our sales group? Our professionals take the time to always give you the space you need to make the right call for you and your family. Only when you are ready to press ahead will one of our friendly sales experts give you the tools you need to move closer to the new vehicle that is right for you.
Interested in Taking Advantage of the Highest-Quality Automotive Service in Toledo? Then The Taylor Automotive Family Is the Name to Trust
Whether it is time to rotate your tires or you want a little help putting the pieces back together after an unexpected breakdown, The Taylor Automotive Family wants to offer up this guarantee: We are the leading name in top-tier service that is efficient, affordable, and always handled by licensed cars mechanics.
888-668-5531
Own a car that is not a Cadillac, Genesis, Hyundai, Kia, or Volkswagen? Then that is not an issue. Our dedicated automotive experts are more than capable of servicing all manner of cars, trucks, and sport utility vehicles (SUVs) when it comes to both standard maintenance and unexpected repairs.
Our Parts Team Is Ready and Waiting to Serve You
For those of you who are looking to take care of a repair by yourself, you will be excited to hear our dedicated team of parts professionals can help you find the part you need in a jiffy. From original equipment manufacturer (OEM) replacement parts to a vast inventory of other offerings that can help you square up a repair or service on virtually any automobile imaginable, we are confident the part you need is waiting for you right now in The Taylor Automotive Family parts department.
888-677-9731
That being said, we can bring you so much more at The Taylor Automotive Family than just access to the largest inventory of Cadillac, Genesis, Hyundai, Kia, and Volkswagen OEM parts in Toledo. By stopping in at The Taylor Automotive Family, you will also make the most out of the best prices in town, along with a steadfast commitment to friendly and stress-free service.
Have Another Topic on Your Mind We Have Not Covered? We Are Interested in Connecting with You!
Did we not answer all of your questions? Then give us a call! The Taylor Automotive Family is always excited to receive input from our respected customers, so make it a point to give us a call if you have any questions, comments, or concerns you want us to handle. We will be on hand to offer up as much expert insight as possible as we help you work your way through whatever problem is currently facing you down.
888-650-6911
Now that you are well-versed on the right avenues for reaching out to The Taylor Automotive Family team, in addition to what each of our departments has to offer valued customers such as yourself, there is really only one thing left to do: Give us a call! We are excited to get in touch with you today and ensure your next visit to The Taylor Automotive Family is the best it can possibly be.